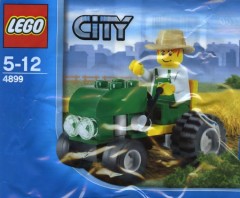 So far, this week has been relatively uneventful in the U.S. :
No major advertised LEGO sales this week via TRU, Target, or Walmart
That being said, I did run across a couple of unadvertised sales at the stores, though I can't be sure these are nationwide: TRU - Farm (7637) $69.99 down from $89.99; Walmart - Tank Droid (7748), Droid Tri Fighter (8086), Freeco Speeder (8085) each "rolled back" to $19.99 down from $24.99
The promotion for June at U.S. Brand Stores is a free Farm Tractor (4899) with a $50 purchase (As far as in store promotions go, this one is better than most; I picked one up last night but definitely want another)
Still no apparent sightings of 2010 Summer Sets or Collectible Minifigures outside of TRU or Brand Stores
The Emporium (10211) is on backorder again at S@H, now not due in until late September!
The Space Shuttle (10213) is slated to be available on June 19 (They have one in the display case at one of our local Brand Stores; While the set is definitely majestic and I very much liked the rocket boosters, I have to say that I was a little offput by the angular brickish nose and windshield design; am I alone on this?)
Lastly and as many of you have likely already noticed, Huw has recently added permanent links on the home page (upper right) for both the North American and World Collectible Minifigures Series 1 Barcode Keys. Thanks Huw!
UPDATE: Just reviewed next weeks ads (6/6 - 6/12) and unfortunately there are no advertised sales for LEGO at either TRU or Target. :o(
Commenting has ended on this article.