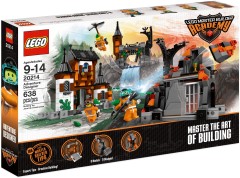 Next weekend, the Vancouver store will be hosting a weekend-long event to celebrate the MBA set launch with "MBA classes" being offered for all. The store staff are telling people to arrive very early, as they were sure that the classes would fill up very quickly!
It also appears that currently with a Lego Master Builder set purchase, you will receive a free "MBA-Canadian-Launch" poster.
This piece of Canadian news came from Brickset user John, thanks John for the heads-up.
Commenting has ended on this article.