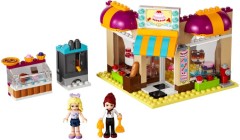 LostInTranslation just sent word that Tesco Direct are now selling a selection of the Summer 2013 sets from Friends, Castle, Creator, Technic and LoTR, the first retailer to stock them in the UK.
It really is bizarre how LEGO allow their retailers to stock new items before they are even added to LEGOShop.com most of the time...
Have you found these sets anywhere else in the UK? Let us know!
Commenting has ended on this article.