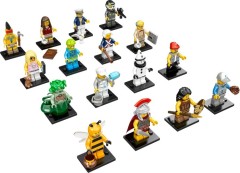 As expected, U.S. retailer Five Below has begun selling Series 10 Collectable Minifigures. Unlike with previous series, my local store has the 60-count boxes. I found six at the checkout stations up front. The boxes were stacked with the ones underneath being unopened, let alone unfettered.
It's difficult to discuss Series 10 without touching on Mr. Gold. There has been quite a bit of speculation in the Forum as to the randomness of this Croque Monsieur. If his distribution were entirely random, we should have been seeing him show up multiple times in the same box, let alone in the same store.
Additionally, we could have seen all 5,000 found before all regions and/or retailers had even had a chance at this series. Evidence so far seems to indicate that there has likely been quite a bit of planning involved on how to properly get our gold friend to the market. To date, he has been found from Washington State all the way to Guam and St. Helena. Five have even been found in little Puerto Rico! And these are just the ones that have been registered on LEGO.com. Most expect a good portion of these to stay hidden to the public eye...
At least in the U.S., Series 10 first hit Toys R Us before gradually appearing in LEGO Stores, Target, Walmart and regional stores like Fred Meyer. Since they started selling CMF, Five Below is often the last to the table. With Series 11 hitting the street in Poland, it would seem like the hunt for Mr. Gold is nearing an end for most of us, at least for those of us that had not already given up.
But with new boxes being put out weekly by retailers and with Five Below now getting into the game, I recommend that you keep on hunting while the hunting is good. You never know when you might wander into a store on a quiet Saturday afternoon, find an unopened box and then on your 27th bag stumble upon a "diamond in the rough", or more accurately, a diamond in the corner of a bag... ;o)
Commenting has ended on this article.