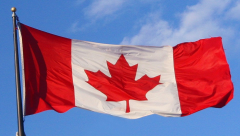 As some of you know, I've been in Canada for the last two weeks on vacation/holiday. I was in Halifax, NS for the first week and near St. George, NB in the second, from where I made a couple of trips into the US (to Bangor and Lubec in Maine). My family and I had a great time. I won't bore you with any more details, but here are a few observations:
- Canada is massive! Of course you can tell that from the map but when you're there you appreciate just how big it is and how little of it you can visit in just a couple of weeks. That's not enough time to even see all of Nova Scotia.
- I now know why LEGO is so expensive in Canada. Everything is expensive! With the exception of gas that is, which is about 2/3rds the UK price. The price of food in particular surprised us: bread, cheese, milk, the basics, were about double the UK price. It can't be right that I can buy Canadian cheddar for half the Canadian price here in the UK, can it?
- Tim Hortons is a fantastic institution! Branches everywhere, fast, efficient, good food and great prices. It's almost cheaper to get a toasted bagel and coffee there than it is to buy them in a supermarket. We need something like that here in Europe.
- We have nothing like Sirius XM satellite radio in Europe, it is excellent and made the five hour drive from NS to NB fly by.
My time there wasn't totally LEGO-less. I met Chris McVeigh (aka powerpig) for dinner in Halifax and searched out LEGO in the Bangor branches of TRU, Target and Walmart. The LEGO was certainly cheaper in the latter two, but my suitcase would not permit me to bring much home with me :-(
I'm just about over my jet-lag so will be dealing with the 400+ emails I received while I was away today, and updating the database with new images, etc.
It seems that every time I go away there's some big announcement or other and this time was no exception. SDCC generated a lot of news and I'd like to thank Matthew and kempo81 for posting it in my absence. Thanks too to CapnRex101 for his excellent reviews which have also hopefully kept you engaged over the last two weeks.
I apologise for the downtime over the weekend. The site was behaving intermittently from about 04:00 GMT Saturday to 16:00 GMT yesterday due, it seems, to instability of the host machine of the site's virtual server. Once it had been rebooted, it started to behave.
So, everything's back to normal now, and our regular service has been resumed :-)