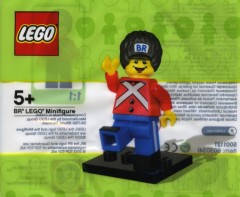 Sorry I'm late in posting this, particularly given it's a great offer for those of you in the USA and Canada.
Jason from Chowren explains: "Before we get to this month's promo we want to apologise to Brickset fans in Europe as the promo is focused mainly for readers outside of Europe. We are always looking for deals that we can share with everyone, but this item is not as widely available outside of Europe. We want to bring this item at a good price to the rest of the world.
"So, without further ado here is the July promotion for Brickset: $5.00 for 5001121 BR LEGO Minifigure, brand new in sealed bag.
"To order, visit our website and enter promo code: BRICKSETBR at the checkout to get it at this price. We have made 500 available and will limit them to 25 per customer. The more you buy the cheaper the shipping per item will be and any over-charge caused by errors in the shipping calculator will be refunded. The offer is, of course, only available while stocks last, so given it's likely to be very popular I suggest you place your order ASAP.
"Just like previous promotions, you will need to have registered an account in our store in order to use this code."
Commenting has ended on this article.