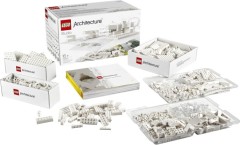 I wasn't going to cover this in the news because, well, it's old news now, but a lot of people have emailed asking why I haven't mentioned it, so here goes...
It seems that the Architecture Studio 21050 is being marketed at adults and the mainstream media is running stories on it, such as this one on ABC News. Ace at FBTB has written a great review and caperberry's New Elementary blog takes a look at the parts in it.
It's available at Barnes and Noble in the USA already and will, apparently, be available in brand stores and shop.LEGO.com from tomorrow.
Commenting has ended on this article.