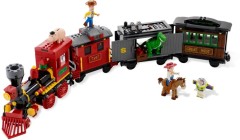 It's coming to that time of year when retailers across Australia start discounting their prices on LEGO sets. The first wave of advertising (and sales!) is from Target and Toys 'R' Us.
The latest Target catalogue features some of the new Space Police 3 sets, some of the Toy Story sets and one of the new Duplo sets on sale:

You will find these on page 17 of the catalogue. The Target sale starts 10 June 2010 and finishes 16 June 2010.

The latest Toys 'R' Us catalogue also has many specials on various LEGO sets (including 7597 Western Train Chase) - there are too many on sale to list here individually. Pages 3 and 7 of the catalogue feature the LEGO sets on sale. Of note is their offer of a "Bonus Star Wars Silver Storm Trooper and Free Lego Club Membership Form when you spend AUD 70.00 or more on LEGO Products in one transaction. (Limit 1 per customer)". Also of note, is the coupon on the last page of the Toys 'R' Us catalogue, offering "20% off your total purchase price when you spend AUD 100.00 or more on full priced items." The coupon is only valid from 12 June 2010 till 14 June 2010. If you happen to find a 10197 Fire Brigade in stock at your local (Australian) Toys 'R' Us store, you might find this coupon quite handy!

Also, there are reports that Australian K-Mart stores, and other retailers in Australia are also starting to stock the new Space Police 3 sets on their shelves (Thank you jimmybrick for that report).
Given this weekend is a long weekend, due to the Queen's Birthday Holiday next Monday, this could be a good opportunity to go out and purchase some new LEGO sets!
Update: Click through to comments for this article to see a list of all the items on sale at (Australian) Toys 'R' Us stores.
Update 2: The Queens Birthday Holiday next Monday is observed by all Australian states, except for Western Australia (who will be observing the Queens Birthday Holiday in October).
Commenting has ended on this article.