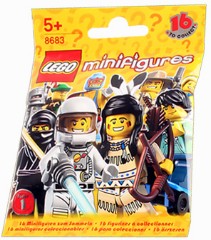 Australian LEGO shoppers will have noted that in Australia, until now, Series One LEGO Minifigures have only been available from Target and Toyworld stores (as well as through LEGOShop.com and some other online retailers).
I have reports that Australian Toys 'R' Us stores are receiving very limited stocks of them -- staff at one Toys 'R' Us store have indicated that the only stock they are expecting to receive, are two of the outer boxes: in other words, only 120 minifig packages!.
With reports coming in that many Target and Toyworld stores are now completely sold out of them, this might be your next chance to score that missing minifig from your collection!
Commenting has ended on this article.