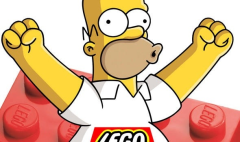 Our articles about The Simpsons in LEGO generated a lot of interest and have been among the most read and commented articles published this year. It seems some of you can't wait while others think the idea is terrible.
Now, news has emerged overnight on GrooveBricks that'll be of interest to those of you in the former camp: a possible set list.
Here's what's it's alleged is heading our way:
Bart's Skate Trick, £10 minifigs: Bart & Milhouse
Homer at the Control Panel, £20, minifigs: Homer, Burns, & Smithers
Lisa's Sax Performance, £30, minifigs: Lisa, Marge, Sherri, and Terri
Springfield Shops, £50, minifigs: Bart, cashier at Krusty Burger, Krusty, Apu, / Nelson
Simpson's House, £70, minifigs: Bart, Homer, Marge, Lisa, Maggie, Grandpa, Flanders, and Santa's Little Helper
The list certainly sounds plausible, doesn't it, and covers the main price points. Do the minifigs include the main characters, and are these scenes/locations iconic?
Commenting has ended on this article.