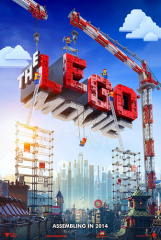 First, news for Collectable minifigure fans: well-informed Eurobricks member Klaus-Dieter reports that the Collectable minifigures Series 12 will consist only of minifigs featured in The LEGO Movie. It will contain 16, at the usual price.
He also saw a list for the upcoming 2014 City and Friends sets for the first half of the year (after the break...)
CITY
Police
Break-Out of the Police Station (~100€)
Break-Out of the Prison Transporter
Bandit's Hiding Place (~50€)
Police Motorcycle Chase
Police Helicopter Chase (~50€)
Police Boat Transporter (~40€)
Mobile Police Unit (~30€)
Great Vehicles
Camper with Canoe
Jeep with Jetski
Wood Transporter
Car Transporter
Racing Car
Monster Truck
Repair Car
Tow Truck
FRIENDS
Mission at the Beach
Beach and Smoothie Bar
Beach House
STAR WARS
Battle Packs:
75034 Death Star Troopers
75035 Kashyyyk Troopers
75036 Utapau Troopers
75037 Battle on Saleucami

The new "recruitment" line:
75028 Clone Turbo Tank
75029 AAT
75030 Millennium Falcon
75031 TIE Interceptor
75032 X-Wing Fighter
75033 Imperial Star Destroyer

System Sets:
73038 Jedi Interceptor (Anakin's Yellow)
75039 V-Wing Starfighter
75040 General Grievous' Wheel Bike
75041 Vulture Droid
75042 Droid Gunship
75043 AT-AP
75044 Droid Tri-Fighter
75045 Republic AV-7 Anti-Vehicle Cannon
75046 Coruscant Police Gunship (this might be an exclusive?)
Please note that this lists are not confirmed, do not contain official set names and is not meant to be complete.
Update: (by Huw) I guess the retailers' catalogue is out now because xxLegoCrafterxx has sent me a list of alleged 2014 Star Wars sets.
Please note that we won't be displaying pictures for any of these until they are available without confidential watermarks, in about November.
Update 2; (by PsyKater) Brickset member CM4S and figura reported a more complete list of 2014 Star Wars Set which is published by David Hall (solidbrixxstudios) on flickr.
Commenting has ended on this article.