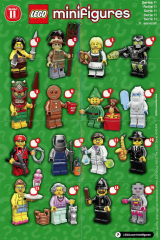 The team over at BrickFanatics is running a competition where you can win the series 11 minifigures.
All you need do is to create a diorama that captures any of the Minifigures from Series 1-10 (plus the Team GB Olympic ones), enjoying their time off on their holidays. Maybe they have gone back home, having a chill on the beach or visiting a famous monument. Let your creative juices flow and build an 8×16 postcard scene, then upload your creation to our special contest Flickr group. You have until September 1st. to get your Collectible Minifigures Postcard Diorama complete. Full rules can be found on the site.
Good luck if you enter!
Commenting has ended on this article.