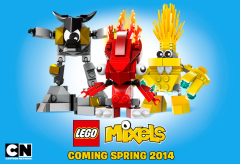 Judging by the volume of information that's surfaced this week about the 2014 sets, I think it's safe to assume that the first edition of the 2014 retailers' catalogue has been distributed around the world.
LEGO do not like the confidentially stamped images in the catalogue being distributed, and we will again be respecting their wishes this year. However, they do not seem to be so fussed about textual information, set names and numbers, which I have concluded because they have not asked for the information published this week to be removed.
So, I've collated all that I could find, including set numbers, and added them to the database. Thus the 2014 page summarises everything we know so far.
Have I missed anything? Let me know.
Thanks to Tomas at Groove Bricks for summarising the information in his posts and keeping us informed.
Commenting has ended on this article.