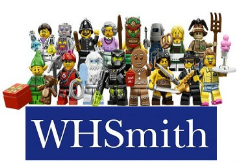 WHS is gearing up for a busy week of LEGO action when the Daily Mail promotion kicks off on Saturday.
I read on BrickFanatics this morning that they've started selling series 11 minifigures today so I checked out my branch and, sure enough, they had a box on the shelf behind the till. They had also re-stocked with series 1 'mini build' polybags. Did I buy any minifigs? No, I can't be bothered with all that blind bag malarkey any more :)
Image courtesy of BrickFanatics.
Commenting has ended on this article.