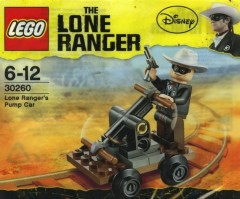 Head down to WH Smiths today to pick up a 30260 Lone Ranger's Pump Car, free with the Daily Mail. It's a great way to get the main protagonist from the film if you don't want to shell out on any of the boxed sets.
While you're there, pick up some series 11 minifigs, that have been put on the shelf this week, and maybe even some 'mini builds' polybags.
Tomorrow, collect a voucher from the Mail on Sunday that can be redeemed next Sunday for a Chima Speedorz.
Commenting has ended on this article.