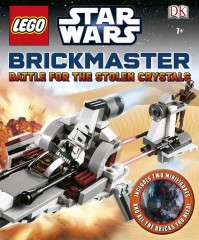 The tenth Dorling Kindserley Brickmaster book, Star Wars Battle for the Stolen Crystals, has just been published. Like the others, it has a thick front cover which holds a bag containing (in this case) 189 LEGO parts with which to build the projects in the book, which consists of cartoon strips and step-by-step instructions.
The book follows the story of Commander Gree chasing a commando droid, who has stolen some lightsaber crystals, across the galaxy. There are four sets of two models to build: 'Battle in the Canyons' (V-19 Torrent and Separatist cannon); 'Ambush in the Forest' (WT-RT walker and Vespula fighter); 'Desert Attack' (Desert Speeder and Ph-STAP) and 'Ice Mountain Chase' (Ice Speeder and KD81 Cargo Skiff).
It comes with two minifigs, the aforementioned Commander Gree and a commando droid. They have both appeared in sets before, Gree in the Genosian Cannon from 2012 and the droid in a 2012 battle pack and BARC speeder.
The four sets of models are illustrated on the back cover:
None of them are particularly exciting and I suspect many of the vehicles have been made up especially for this book and do not exist outside of it.
The 'Desert Attack' pair featured on the cover looked most interesting, so that's what I built first. The speeder, below, is not too bad...
.. but the STAP is a bit lame, and as you can see the droid does not stand on it particularly well.
I can't say I was overly impressed with the book or the models and from an AFOL perspective, unless you're a Brickmaster book completist (like me), there's no real reason to buy it. However, the target audience of young boys will love it and will get a lot of enjoyment out of building and rebuilding the models, even if they are a bit contrived.
It's available from Amazon and you'll find it, and all other Brickmaster books, listed on our Amazon books page. (If the page is blank, disable your ad blocker).
Commenting has ended on this article.