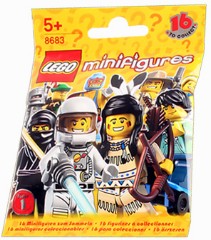 The Series 1 Collectible Minifigures are now sold out at LEGOshop.com. Just to be sure, I called LEGO Customer Service and they have unfortunately confirmed it. Though we've had no word yet on Walmart or Target, the minifigures have been sporadically available at Toys R Us, LEGO Brand Stores, and recently at Borders Books.
Other SOLD OUT sets of note:
8962 – Crystal King
7199 – Temple of Doom
7079 – Drawbridge Defense
7097 – Trolls' Mountain Fortress
7675 – AT-TE Walker
7676 – Republic Attack Gunship
5612 – Police Officer
8398 – BBQ Stand
Please note that most of these sets can still be found in stores, but don't wait too long! :o)

Commenting has ended on this article.