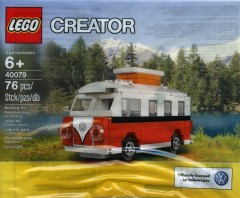 The guys in the LEGO CEE team have sent us a box of polybags to use for reviews and competition prizes. Among them was the new Mini VW T1 Camper Van that'll be free with purchases over a certain threshold from shop.LEGO.com and LEGO stores in September.
The 76-piece model sports the same colour scheme as its larger brother, 10220, and from a distance photos of the two look the same.
It's a 4-wide model, so not minifig scale, or at least not current minifig scale, which is of course 6-wide. It would, however, fit in well in an 'old-school' 1970's LEGOLAND town display when all vehicles were 4 wide and too small to fit minifigs into.
It's a straightforward build and not much more than a box on wheels until you fit the windscreen and curved/sloped roof pieces.
The 2 x 2 tile at the front has a sticker which really does need to be applied to give the vehicle its distinctive look.
The bonnet is perhaps a little square and blocky; the designers of the picture on the polybag have been careful to use an angle from which it's not noticeable. I don't suppose it would be possible to improve it though, given the small scale.
The back view looks just fine.
This is an excellent small-scale rendition of a classic vehicle that's immediately recognisable.
Best of all is the price - it's free! There will be plenty of new exclusive sets to buy come September so if you need a good reason to buy them sooner rather than later, this is it.
Thanks to Kim at LEGO for sending the box of goodies -- watch this space to find out how you can win them.
Commenting has ended on this article.