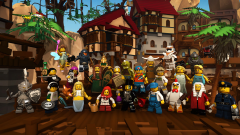 Funcom, the publisher of the forthcoming LEGO Minifigures The Online Game, has published details and an online trailer today:
"Get ready to meet the Minifigures! Collect them all and bring them with you on grand adventures in LEGO Minifigures Online - an epic online adventure where you get to explore colourful locations such as Pirate World, Space World and Medieval World!

"Play together with thousands of other players and battle your way through monstrous riff-raff as you develop your Minifigures' unique and powerful abilities. Smash, build and collect - thousands of exciting adventures are just a brick away in LEGO Minifigures Online!"

LEGO Minifigures Online will launch for PC, iOS and Android during the second half of 2014.
Thanks to stricks_bricks and r4-g9 for the news.
Commenting has ended on this article.