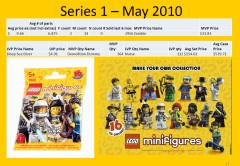 If you're a CMF collector, you'll love this fantastic 222-page compendium that's been put together by Michael Bradford.
Included are details on all 187 minifigs, from series 1 to 11 plus Team GB. Not only does it contain the official images and the bios for each one, it also includes information on rarity, current value, gender analysis and other interesting tidbits.
It's a 43Mb PDF, so might take a while to download, but it is worth taking the time to do so!
Commenting has ended on this article.