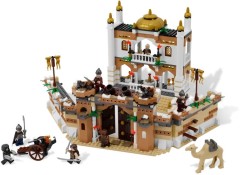 Hot off the press from Jason at Chowren:
"Our September promotion for Brickset readers is $60 for the Prince of Persia set: 7573 Battle of Alamut "
"Enter promo code: BRICKS7573 at the checkout to get this price. There are total of 60 available and we are limiting them to 6 per customer while supplies last. The more you buy the cheaper the shipping per item will be and any overcharge caused by errors in the shipping calculator will be refunded.
"It is very important for readers in Australia, Singapore, Eastern Europe, South East Asia, the Middle East and Africa to know that there is a parcel size limit to your countries, where we will only be able to fit 3 per shipping box. If you would like more than 3 sets we will have to ship in 2 separate boxes. We will ask for additional shipping if you have more than 3 in your order. If you would like an exact shipping cost, please contact us first.
"This promotion will last until 11:59 pm (US West Coast time) Sunday Sept 8, 2013. Just like previous promotions, you'll need to have registered an account in our store in order to use this code."
At $60 it's a bargain. It's a fantastic parts pack and there are some great minifigs in it. Grab them while you can! -- Huw
Commenting has ended on this article.