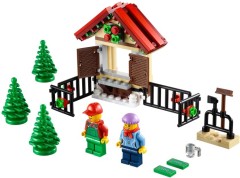 Thanks to grogall for posting pictures on Eurobricks of the two Christmas sets we'll be able to get hold of with qualifying orders later in the year. It's believed that 40082, pictured, will be available during the last two weeks of October, while 40083, a pick-up truck, will be available at the end of November.
They look to be 'must haves' for collectors of the winter village sets, don't they?
Commenting has ended on this article.