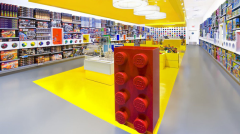 Belgium's first LEGO brand store will open on the 26th of September, we are told. It will be in the Wijnegem Shopping Centre near Antwerp. (Thanks Jochums).
Also in the same week, the store at Disneyland Paris will open, on the 27th. It's being billed as 'the biggest LEGO store in Europe'. The grand opening event will be 3 - 6th October. (Thanks corneglio).
So far as I know, there are no more imminent openings in the UK because, as reported, plans to open one in Southampton were shelved at the last minute.
Commenting has ended on this article.