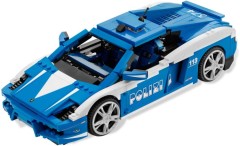 The latest Myer catalogue has just been released, and from 24 June 2010 until 25 July 2010, Myer is offering 20%-off the regular price on all LEGO items in their stores.
Listed specials within the catalogue are as follows:
City
Duplo
Racers
Toy Story
Trains
Star Wars
According to the Myer catalogue, some of the items listed above are apparently "Exclusive to Myer" (which means that other retailers within Australia will not be stocking these sets).

The Myer sale starts "... from Thursday 24 June 2010 and finishes on Sunday 25 July 2010, unless sold out."
Update: There is an additional 10% discount for Myer One cardholders, but only on Thursday 24 June and Friday 25 June.
Commenting has ended on this article.