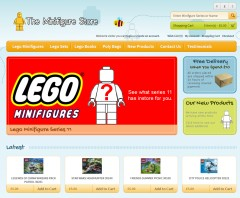 If you still need to fill gaps in your collectable minifig collection, you might be able to do so, and at a bargain price, at The Minifigure Store.
Adam over at the store has set up some discount codes for Brickset readers, for CMFs and polybags:
Team GB 30% off -- GB30
Series 5 13% off -- 13SER5
Series 7 15% off -- SER715
Series 9 12% off -- BARGAIN9
Series 10 11% off -- BARGAIN10
Polybags 25% off -- POLYHEAVEN
Simply enter the codes when you check out, on the 'Cart' page, to benefit from these great discounts.
Commenting has ended on this article.