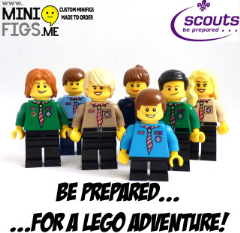 Remember the competition we ran in April in conjunction with Minifigs.me to win your dream minifig? The winner, you'll recall, was a Scout.
Since the competition, Caroline and Nick have been in touch with the Scout Association and are now producing the Scout figures for sale, with 10% of proceeds going to the Scout charity. Here's their press release:
With all the hard work Scouts put into their badges, perhaps they need to be rewarded with a minifigure version of themselves made from LEGO parts? Or maybe they should just get one because they're very cute!
The minifigures can be personalised; choose the head and hair to make it look like your little Scout and even customise the minifig with your Group's neckerchief colours and name.
They've been produced in collaboration with the The Scout Association. It is a registered charity (no. 306101 / SCo38437) and we're pleased to say that 10% from the sale of the Scout minifigs will go to Scouts for them to continue their amazing work providing a life changing adventure that enriches the lives of children in communities around the UK.
Nick and Caroline started Minifigs.me a year ago from their home in Sheffield, UK. They have created bespoke minifigures depicting hundreds of public figures and celebrities, including many of the athletes from last year's Olympic and Paralympic games. "Our jobs see us creating figures for people all over the world, and we enjoy it immensely," says Nick. "I'll be happy as long as I can spend time with my wife and daughter upstairs, then head downstairs to the workshop and create gifts for other people who care about each other."
You can pick up your own Scout minifig or create a set of your own custom minifigure over at http://www.minifigs.me.
PRODUCT INFORMATION: "Scouting Minifigure": from £9.99 from http://www.minifigs.me. Shipping available worldwide.
ABOUT MINIFIGS.ME Minifigs.me is based in Sheffield, England. It creates highly detailed bespoke custom minifigures using LEGO pieces, shipping them to customers across the globe. They have a selection of pre-designed minifigures for sale, but also create new figures for customers based on photographs and descriptions.
The company was formed in the summer of 2012 after husband and wife team Nick and Caroline Savage created figures to support British athletes during the Olympic and Paralympic games. When the figures proved to be popular, Nick and Caroline left their jobs in marketing and scientific research to start Minifigs.me.
While the creation of Minifigs.me was a welcome stroke of good fortune, it also proved a valuable distraction after the loss of their unborn son, Quinn. The couple now have a baby daughter, Indiana, and intend for Minfigs.me to always be a small family company.
Website: http://www.minifigs.me
Twitter: @Minifigsme Facebook:
Minifigs.me is not a part of, or endorsed by, The LEGO Group. They are very big fans, though.
Commenting has ended on this article.