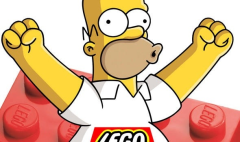 Nerdly claims to have a 'scoop' on new information about The Simpsons sets:
"LEGO is set to release (much like the Olympic minifigures) a complete wave of blind-bag minifigures (series 13 to be precise), with 16 Simpsons characters to collect – including Homer, Marge, Bart, Lisa, Apu, Chief Wiggum, Moe, Itchy and Scratchy and many more of the show's iconic characters – which will be launched May 2014.
"And despite a list of proposed LEGO sets hitting the likes of Brickset and Bricks & Bloks, we can confirm that the *only* LEGO set to be launched in the first quarter of 2014 in the UK will be the Simpsons House, which is set to be made available direct to consumers (via the LEGO website and LEGO stores) in April 2014.
"On top of that, this new LEGO range will also be supported by a special Simpsons LEGO TV episode (much like the LEGO Star Wars specials) in May 2014!"
So, I guess that means that the possible set list is either not correct, or won't all be available in all markets.
(Thanks Kez for the news)
Commenting has ended on this article.