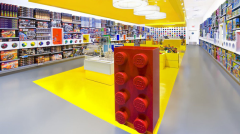 Newcastle!
After years of northerners complaining about a lack of brand stores in t'north, there must now be more there than there are down south: Liverpool, Manchester, Leeds, Sheffield, and soon Newcastle. The store address is Unit 73, Gateshead, NE11 9YG which is the Metro Centre. LEGO is advertising for several positions, including manager. I think it's safe to say it'll open before Christmas.
Now all we need is for LEGO to start renegotiating for a store in Southampton. Maybe next year...
(via BrickFanatics)
Commenting has ended on this article.