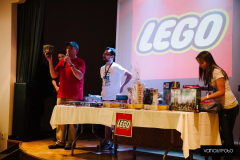 I am pleased to announce news of the 2013 Vancouver LEGO games. This is a charity event held in benefit of the Love Global Foundation and the LEGO Foundation.
"The Vancouver LEGO Games rounds up the most passionate LEGO builders to compete for prizes judged according to various age groups (5-6 years, 7-8 years, 9-10 years, 11-13 years, 14-17 years, and adult 18+). Prizes are awarded to the most innovative and unique creations. This year's event will have more prizes and will take place at a larger venue. The Vancouver LEGO Games 2013 will raise money for the LEGO Foundation and Love Global Foundation." (VanCitybuzz)
It's being held on October 26, 2013, 10:00 -5:00, at Langley Events Centre – 7888-200 Street, Langley, BC. You can purchase tickets as a competitor, spectator, or exhibitor at vancouverlegogames.com.
This sounds like a great event for a good cause, there is a youtube video of the event so go check it out. I hope we see more Canadian LEGO events soon.
Commenting has ended on this article.