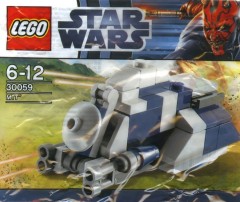 Jason has another offer for Brickset readers this month:
"Our September promotion for Brickset readers will be $2.25 for 30059 Star Wars mini MTT polybag.
"Enter promo code BRICKSET59 at check-out to get this price. There are total of 125 available and this offer is limited to 15 per customer while supplies last. The more you buy, the cheaper the shipping per item will be and any over-charge caused by errors in the shipping calculator will be refunded. This promotion will only last until 11:59pm (US West Coast time) Wed. Sept 25, 2013. Just like previous promotions, you'll will need to have registered an account in our store in order to use this code."
Commenting has ended on this article.