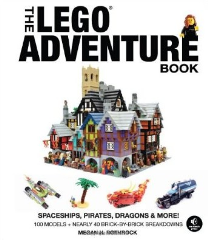 Megan Rothrock's LEGO Adventure Books are unlike other LEGO books and much better for it. We gave volume one a rave review when it was released last November.
Now, we can exclusively reveal the builders whose models feature in volume two, which will be published this November, along with more information about the book:
LEGO® Adventure Book Volume 2: Spaceships, Pirates, Dragons & more!
Author, long time AFOL, LEGO Community member and former LEGO Designer Megan H. Rothrock is about to bring us a new LEGO adventure!
Following the highly successful LEGO Adventure Book Volume 1, the LEGO Adventure Book Volume 2: Spaceships, Pirates, Dragons & more will hit the shelves in November.
Like LAB vol. 1 Megan has gathered more highly talented AFOLs from the LEGO Community to bring us all new LEGO models.
Megs and Brickbot are also back for more building and adventure as well as some new characters that have been added to this colourful cast of creativity.
Megan says "I am thrilled to have created a sequel to my first LEGO Adventure Book and to have been able to work with such wonderful and talented AFOLs from around the world. With both books the experience of working with the Featured Builders has been great! The sequel is stacked with gorgeous never before seen LEGO models to build and I am excited to share them with my fellow LEGO fans."
Check out some sample spreads from the book after the break:
I'm very pleased to see that Barney Main's work is being featured because he's one of my favourite builders. His MOCs are full of fascinating details and imaginative use of parts.
Megan, along with some of the builders and their models, will be at the Great Western LEGO Show in Swindon in October.
The book can be preordered from Amazon, where you'll be able to see more of the book's content:
Amazon.co.uk
| Amazon.com
! Amazon.ca
.
Commenting has ended on this article.