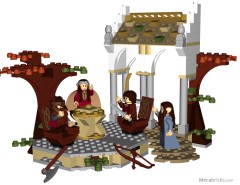 Mecabricks is a fantastic website that lets you design 3D LEGO models online using a technology called WebGL.
Nicolas, who runs the site, has created 3D models of a few hundred official models and has provided a viewer that enables them to be embedded in web pages. You can see where this is leading, I'm sure...
Fire up your Chrome or Firefox browser and head on over to the Council of Elrond page to see an example of it in action. If you click on the mecabricks.com logo in the corner you'll be taken to a page where you can open the model in the 3D workshop then virtually 'play' with it.
Currently the technology only works in these two browsers but it's very impressive nonetheless.
I hope you find that useful, and please let Nicolas know what you think of it in the comments.
Commenting has ended on this article.