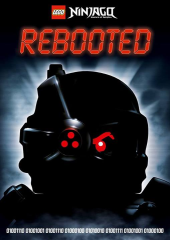 There was a lot of excitement yesterday when LEGO revealed a 'poster' for Ninjago 2014 on Facebook.
The binary code at the bottom represents ASCII characters which spell out Nindroid. I guess this implies some sort of robotic theme to the series.
It seems that minifigures have 'leaked out' from somewhere already because yesterday this one was sold on eBay for over US$50. It certainly bears a resemblance to the poster, doesn't it, so it looks as if it's the Ninjas who become 'robotic' rather than (or as well as) their adversaries.
Thanks everyone for the news.
Commenting has ended on this article.