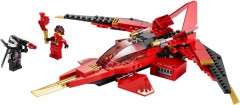 LEGO teased us earlier in the week with a poster about next year's Ninjago sets and now grogall has uncovered official hi-res photos of three of the sets, 70721-70723 which he has posted on Eurobricks. I believe they originated at KMart.com.
So it seems that it's the adversaries who are robots or cyborgs, and it's interesting to see that the Ninjas are not dressed in typical ninja garb; they have handkerchiefs over their mouths and hair instead of hoods.
Commenting has ended on this article.