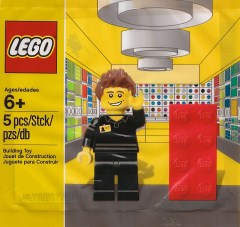 The Brick Fan is reporting that 5001622 LEGO Shop minifigure polybag is being given away with orders at shop.LEGO.com. Someone placed an order recently and received a note, and the polybag, with it:
"As a thank you for shopping at the Official LEGO Shop and to celebrate the launch of our mobile site, a FREE LEGO Shop Minifigure has been included with your order. This minifigure is exclusive to the LEGO Shop and can't be found anywhere else! Happy Building!"
There's no word on how much was spent, or which country the person is in, so I wouldn't go placing orders 'just in case' until we have more information.
There hasn't been much fanfare around the launch of the mobile site, but if you go to shop.LEGO.com on your mobile (via one of the links at Brickset preferably!) you'll be presented with it.
It's strange however that they opted to develop a whole new site, and not make it responsive so that it works optimally on all devices regardless of their screen size. This is the approach I've taken for the new version of Brickset that is nearing completion and which I hope to make available for open beta testing in a month or so.
Commenting has ended on this article.