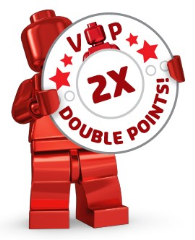 Now would be a good time to get shopping at shop.LEGO.com because starting today you'll receive double VIP points on all purchases. In the USA you'll also still get the Clone Trooper Lieutenant with Star Wars purchases over US$50.
The Winter Village Market 10235 is now available to all, and the latest Architecture set, 21018 UN Headquarters, should also be available today, although at the moment it isn't listed for the UK.
Click on the banner above to get shopping!
Commenting has ended on this article.