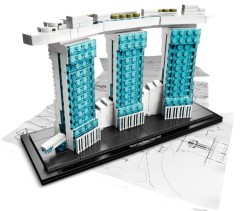 No sooner than UN Headquarters is released, LEGO have inadvertently released an image of the next Architecture set on their online survey site. 21021 is a model of Marina Bay Sands, a hotel in Singapore, which is likely to be released in 2014.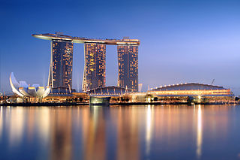 Wikipedia says "Marina Bay Sands is an Integrated Resort fronting Marina Bay in Singapore. Developed by Las Vegas Sands, it is billed as the world's most expensive standalone casino property at S$8 billion, including cost of the prime land".
It's certainly an impressive looking building!
Thanks to detective whung for the news :-)
Note for the benefit of anyone wondering where the image came from: At the back of instruction books, you are invited to complete a survey to share your experiences of the set you've just bought, at http://www.legosurvey.com/product. It asks you to enter the product code of the set, and if you enter 21018 it takes you to this page which shows the image. This is a commonly used way to discover unreleased sets which are often added there before they are announced elsewhere. You simply enter set numbers that are next in the sequence of known number ranges. Now that there is a system in place again for numbering sets, it is easy to know what numbers to try.
Commenting has ended on this article.