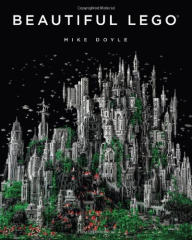 There are so many great LEGO books coming out just now in time for Christmas that I have a bit of a review backlog. The latest one to hit my doormat is Beautiful LEGO by Mike Doyle, published by No Starch Press.
It's a 260 page paperback that the frontispiece describes as 'a compendium of LEGO artwork that showcases a stunning array of pieces ranging from incredibly lifelike replicas of everyday objects and famous monuments to imaginative renderings of spaceships, mansions and mythical creatures'.
Mike Doyle is a relative newcomer to the LEGO world and is best known for his models of dilapidated houses that have featured in BrickJournal, and also the 'City of Odan' that's pictured on the cover of the book. In the preface he says that the book contains a small selection of the most impressive models he's come across in his time as a AFOL.
The book is 95% pictorial, 5% text: it's full of beautiful photographs of impressive models.There are no instructions and not much information about the models that are featured. There are brief interviews with a handful of the builders, such as Jordan Schwartz, Nannan Zhang and Iain Heath, but that's all there is to read. Thus, like similar books on art or photography, it makes an excellent 'coffee-table book' that's a pleasure to flick-through from time to time.
I know I keep saying this about every book I review but, once again, 'this is not like other LEGO books' and I think it potentially serves a different audience to others.
First, it will appeal to experienced AFOL builders and will be useful inspiration for their own models. Second, I think it would make a great book for any AFOL to have on their coffee table to show to friends and family that don't quite get their fascination with LEGO because it illustrates beautifully what can be achieved with the medium and should help them see why you're so fascinated with it. Lastly, it may also appeal to artists who had never even considered LEGO as an artistic medium: it certainly does a good job of showing what's possible with it.
So, this is another book that deserves space on your bookshelf. I hope there's room for them all...
It can be ordered from Amazon, where you can 'look inside' and see sample spreads from it.
Commenting has ended on this article.