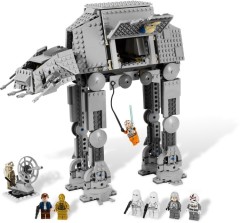 Brickset member 'avacadoturban' has just emailed us to say that he was just in the Toys'R'Us in Poole, Dorset, UK, as they were putting out some of the summer 2010 Star Wars Lego sets. Specifically:
Palpatine's Shuttle - £59.99, Hoth Wampa Cave - £34.99, AT-AT - £99.99, Slave I - £79.99
He also reports that they are still running the 'free chrome trooper on Star Wars Lego purchases over £29.99' promotion.
Update from jon2010, 12 July: "Legoland Windsor is now selling all of the summer 2010 Star Wars sets. AT-AT is £89.99 (with my 10% discount as annual passholder that is c.£80, a lot less than TRU! Most importantly they have Cad Bane's speeder in stock at £44.99, which is the one set I wanted!"
Commenting has ended on this article.