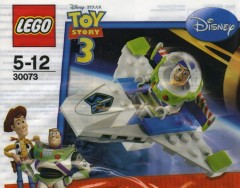 Brickset member "Timberlake29" brings news that 30072 Woody's Camp Fire and 30073 Buzz's mini-ship will be free with next Saturday's and Sunday's Daily Mirror. He said the ad in yesterday's paper didn't mention whether it would be by token or by collect in-store. If it's like the last one, though, it'll be collect in-store from Tesco and TRU.
Typical: I'm going to be out of the country next weekend so won't be able to collect for myself! If anyone is able to pick some up for me, do please get in touch!
Update from Eurobricks: This is part of a larger promotion of TS3 toys which will be available with The Mirror.
Commenting has ended on this article.