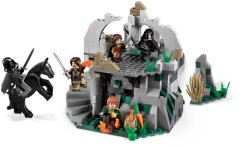 Valid Sunday October 6 through Saturday October 12, Toys R Us has several promotions running. Firstly, there is a Buy One, Get One 40% Off deal on ALL LEGO sets. And by ALL, Toys R Us is excluding Chima, Technic, Mindstorms and likely anything they consider a "Hot Deal" or "Hard to Find." Though it is certainly more difficult these days to find a good deal at TRU, it is not impossible. Do your best to find sets with as little mark-up as possible, and then pair them with similarly priced sets to maximize your savings.
Additionally this week, you will receive a Toys R Us exclusive minifigure set with ANY LEGO construction or LEGO board game purchase of $60 or more. Lastly, Toys R Us continues to offer 10% Back on Toy Purchases made through October for Rewards "R" Us members. The "rebate" is capped at $100 and will be emailed to you as a promotional gift card in mid-November. "Rewards" dollars will apparently continue to accrue as well.
Don't forget that Toys R Us (like Target) is also now price matching most online prices in store, including their own. I will probably try it myself this month with Jabba's Palace (9516) and/or Constitution Train Chase (79111) via Amazon. I imagine the rebates and Rewards dollars will still accumulate and also hope to receive that week's giveaway.
Commenting has ended on this article.