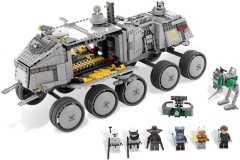 The Summer Star Wars sets are starting to show up at Toys R Us stores around the country. I found the new Clone Turbo Tank, new General Grievous' Starfighter, Palpatine's Shuttle, Slave I and Plo Koon's Starfighter at my local TRU. I didn't find the Wampa Cave, though there was indeed a spot for it. I also didn't see the new AT-AT Walker but I can't imagine it's far behind.
Prices were as follows:
Clone Turbo Tank - $119.99
General Grievous' Starfighter - $49.99
Palpatine's Shuttle - $59.99
Slave I - $79.99
Plo Koon's Starfighter - $24.99
Hoth Wampa Cave - $39.99
Additional Note: It appears that TRU just marked up most of their LEGO sets again, but these BOGO 50% sales more than make up for the difference in my opinion. I also didn't see any of the new Train sets but am hoping to find them later this week while the coupon is still valid.
Commenting has ended on this article.