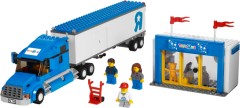 Toys R Us - yet again, TRU is running a BOGO 50% off sale, though this one is limited to Duplo, Atlantis, City and Prince of Persia sets. As this sale will be in their weekly flyer, I expect it to be honored both in-store and on-line, and for multiple sets. Sale runs from 7/18 - 7/24.
Target - there are no LEGO sales advertised in this week's flyer.
Walmart - still offering great bundles like City Corner and Smart Car for $49 (saves you $15) or Vader Tie Fighter and Snowy Battlepack for $29 (saves you $12). Additionally, the Corporate Alliance Tank Droid, Echo Base, Freeco Speeder, Hyena Bomber, Trifighter Droid, Army Men on Patrol, and Space Galactic Enforcer can be had for 20% off or more. They also have the wonderful LEGO Star Wars Visual Dictionary at only $12.50 which is more than a 40% discount.
Borders - for Rewards members (free to sign up), Borders e-mails us great coupons every week. This past week, I was sent a 33% off one item coupon that could be used once in-store and once on-line. On Wednesday, I found a Borders with several discontinued Shanghai Chase sets and used my coupon to get one for only $20. Borders has since sent me another 33% off one item coupon that's valid this week. If you're not yet a member, I highly recommend you join. They even sell books! ;o)
UPDATE #1: The Small Print on the TRU Sale limits the Price Range to sets between $6.99 and $149.99, effectively eliminating only the Cargo Train and impulse sets. And unless you wanted 2 of the cargo trains, that set was not a good fit for this type of sale anyway when trying to maximize the discount. In regards to the impulse sets, you wouldn't save much anyway once you've factored in the recent TRU markups.
UPDATE #2B: The City Sets are now reflecting the BOGO 50% sale online, including the cargo train. Please note, though, that the BOGO 50% only appears to be applying to one set per transaction online. This is probably due to the free shipping offer which is indeed stacking online.
Commenting has ended on this article.