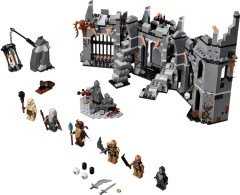 Back in August you will remember that some of the 2014 LEGO The Hobbit: Desolation of Smaug sets name's and probable price points were unearthed. There was discussion on these sets in our very own Forum (here) as well as on other LEGO news, and resource websites.
Well now these aforementioned sets have been seen complete with images on eBay Germany. Although the auction has ended the images are now out in the wild and can be seen on the Brickset Flickr stream. The story has already broken over at thebrickfan.com
The 3 sets there are now images for are as follows:
Dol Guldur Ambush (79011)
Mirkwood Elf Army (79012)
Dol Guldur Battle (79014)
Commenting has ended on this article.