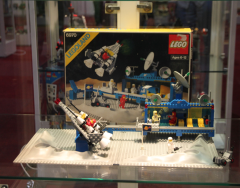 Brickset member Proteasome has sent us a report from this year's LEGO World in Holland show which ends today.
"In Holland during the autumn holiday, the 'biggest LEGO event in the world' takes place. As I decided to restart my old LEGO hobby about a year ago thanks to LOTR, I had to go there, and being a big Brickset fan, I thought it would be nice to review it, so you can decide for yourself if it would be worth the trip! The event took place from Thursday 17 to Wednesday 23 October (so maybe you can visit the last day). I went on Thursday, and got there in time to see the opening by the mayor of Utrecht (not very special).
"Upon entering I was immediately happy, as they had a small LEGO museum, showing almost all of the castle sets ever produced, a very impressive sight. Being a classic space fan myself, I dropped by at the next row, showcasing all the classic space themed sets and the original Blacktron sets.
"Next up was the sales department, where you could buy old sets new in the box (if you could afford them), specific parts to complete your sets or MOCs, and single minifigs. The event sponsor Intertoys, a Dutch toys brand, also had a shop with 10% discount on all sets, but still way too expensive. (For cheap LEGO in Holland, check A-tembo).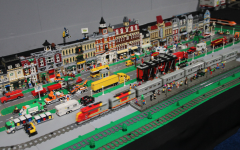 "For me the main attraction was the LEGO-fan area, where various fans and associations showed off their collections and MOCs. There were a lot of town build-ups, lots of which included the modular houses. One set up had very ingeniously converted the corner buildings into regular side buildings. Naturally there was a big ball contraption, very cool, and some people showing off complete collections. The overall best set-up was one from LOWlug, with a medieval set-up. Everything was worked out in detail, with a lot of cool looking trees, and pay special attention to the sagged roofs of some of the barns, a beautiful detail.
"As the LEGO event is mainly an attraction for kids, they had enough to do as well. There was an actual LEGO shower, where kids could stand in a rain of LEGO bricks (actually 1 x 1 tiles in blue and white, a lot of these were misprints or damaged). There was also a big building challenge, where one could win the VW camper, and almost every LEGO theme had a specific area, where kids could build, play and win small polybags. At the Star Wars department, you could build your own light saber, help build huge versions of the famous characters and there was a quick build game. (The republican frigate polybag, and the prize was a new one). Mercedes also had a stand, where they were building a life size version of one of their concept cars, and everyone could help building bricks for the big thing.
"There was also a big pick-a-brick area, where LEGO was sold for 0.06 euro per gram. Unfortunately it was all dumped together in large buckets, which made searching for parts tedious. I managed to replace most of the lost parts of my sets. At the end of the day, everyone got a goody bag, including several folders, and a small polybag. I went home with the Republic Frigate polybag, an Umbaran MHC polybag, racing car 30150 and the LEGO club Max minifig (nice leg side printing! Never seen that before on a minifig). I really enjoyed myself, and will definitely be going there next year!"
I've added more photos to the Brickset flickr stream and Franisca69 has also published some.
Commenting has ended on this article.