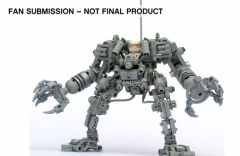 The results of THREE Cuusoo review panels have just been announced: to cut to the chase, Pete Reid's Exo-Suit will be the next Cuusoo model (after the Mars Rover), and will be available mid-2014. The Landrover is still being evaluated. Portals 2, Purdue Pete, Zelda, the Tumbler, Andy the Android, Space Troopers, mini shops and others have all been rejected.
Congratulations Pete: to fight off all that competition is fantastic -- and with a non-licensed model too! I hope the 'professional designers' do it justice!
Here's Tim Courtney explaining the process and revealing the results:
And here's what's been rejected:
Thanks to Mark A for alerting me!
Commenting has ended on this article.