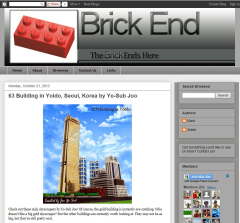 This is the first of what might become a regular feature looking at lesser known LEGO blogs with the aim of increasing their exposure and traffic.
Brickset member and LotR fan apfly has been running his blog BrickEnd for a couple of years with help from fellow fan Mark. Over that time they've been reporting LEGO news and offering their views on it, and highlighting interesting MOCs.
It looks to be well maintained and worth a visit or, better still, worth adding the feed to your newsreader so you can keep up-to-date with the latest posts more easily.
If you'd like your blog featured in a news article, get in touch. I won't promise to post them all, and will at most post one a week.
Commenting has ended on this article.