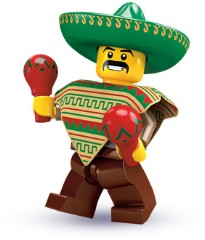 So far, I believe the only confirmed sighting of these out in the wild is at LEGOLAND Billund (but correct me if I am wrong). [Update: They have been seen elsewhere now; read the comments to find out where!]
So, the barcodes are now known, and as I mentioned on Sunday, bricks.inof.de has updated its downloadable PDF crib-sheets to include them.
I've added the individual figs here and also the barcodes, so Mobile Brickset is ready to be used for scanning and identifying them.
By the way, I still haven't resolved the problem with the figs from the collectable minifigures not appearing in your minifig collection here. It's made difficult by the fact that sense didn't prevail at BrickLink and all 16 variants of 8683 still have just one catalogue entry there, and as you know we get our minifig data from BrickLink. I will try and come up with a robust means of manually making the connection between set numbers and figures to solve it once and for all. [Update: this is now resolved. Collectable figs will now show up in your minfig collection: Refresh your collection on the My Sets tab and they'll be added]
(Thanks to the Ugly Duckiling at BrickLink for providing the minifig images for series 2. If you have an interest in minifigs, be sure to read his blog, it's one of the best out there)
Commenting has ended on this article.