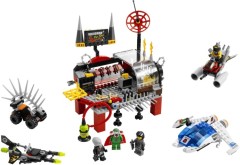 Toys 'R' Us (TRU) will be having a special Friends and Family 20%-off sale off all items - including LEGO - from 29 July 2010 till 30 July 2010. Given the rarity of sales at TRU stores in Australia, this would be a good chance to pick up some of the TRU Exclusive sets (for example, set 5980) at a reasonable price.
However, to be eligible for the 20%-off discount, you must present the special "Friends and Family" coupon. This coupon was emailed out to those subscribed to the TRU mailing list, but as a special gesture to all you folks reading Brickset, here is a link to the coupon - simply print and present!
Toys 'R' Us Friends and Family 20%-off Sale Coupon
Important Note: This coupon is ONLY for Toys 'R' Us stores in Australia!
Commenting has ended on this article.