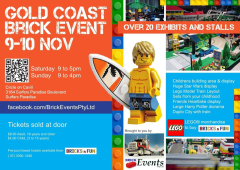 There's another event coming up down under: "Brick Events and members from QLUG (Queensland LEGO User Group) based in South East Queensland Australia are holding the Gold Coast Brick Event over the weekend of 9th & 10th November at Circle on Cavill Shopping Centre located on Level 2 (entry next to Strike Bowling), 3184 Surfers Paradise Boulevard, Surfers Paradise on the fabulous Gold Coast. It'll be open are from 0900 to 1700 Saturday and 0900 to 1600 Sunday.
"There'll be over 20 exhibits and stalls featuring a huge MOC Space Port, War Hammer MOCs, driveable Technic vehicles, Harry Potter, Lord of Rings, Star Wars, trains, Duplo City, play tables and much much more. Tickets are available at the door, $8 adults, $4 children." More information is available on the poster.
Commenting has ended on this article.